Want to skip the Front Desk and head straight to your guest room or suite? Download our new mobile app for contactless check-in and out, mobile key entry and more.
DOWNLOADING THE APP
CHECK-IN PROCESS
Check-in process may begin at 8 AM the day of your reservation
Select "Check-In & Mobile Key" - You will first be prompted to login to Intelity (the app developer) to securely check-in and access your mobile key
If your reservation does not show, you can select to "Manually Import" from the link at the bottom of the page
- For Manual Import, use your Confirmation Number or Phone Number
If your room has been assigned, you will be able to select "Request Check-in" to complete the check-in process
- If your room is not yet ready, you will receive a pop up message to try again or visit the Front Desk
To complete the check-in process, you will need to verify your identity with a photo ID, self photo and credit card
- Photo ID: Driver's License or Passport
- Self Photo: Real-time photo of yourself
- Credit card: Add or update the credit card on file
Once ID, photo capture and credit card is complete, you will be able to activate your mobile key
MOBILE KEY
The mobile key feature allows you to use your personal device as your room key
To access your guest room and mobile key, you must first complete the check-in process, which includes adding your photo ID and self photo
Once the check-in process has successfully been completed, you will see an option to "Access Key"
Once your key appears, hold the face of the phone near the black circle on the door lock; allow 5 seconds and the door will unlock (additional instructions can be found within the app)
You can return to the key at any time from the bottom right of the home screen or by selecting "Check-In & Mobile Key"
Your mobile key also works to access the elevators and Ocean Fitness
Additional keys: If a guest in your party needs access to the mobile key, additional guests can download the app and find the reservation using the same confirmation number
ROOM SERVICE
To view our menu and order from In-Room Dining, select "Order Room Service" and follow the instructions to order online
GENERAL APP SPEED
Please note, the application speed may be affected by your WiFi, your mobile device age and carrier's network speed
For best results, make sure your device's battery saver feature is off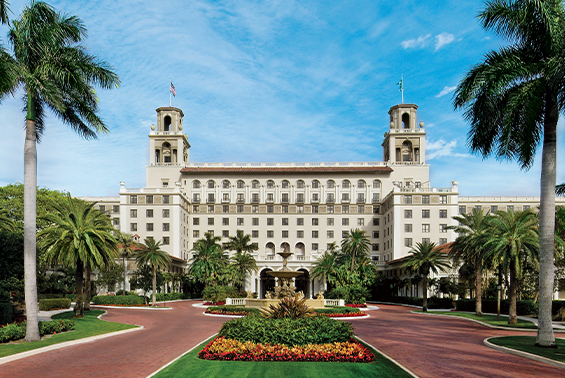 The Breakers' Birthday
Founded in 1896, see how our resort is celebrating 125 years of hospitality...
125th ANNIVERSARY